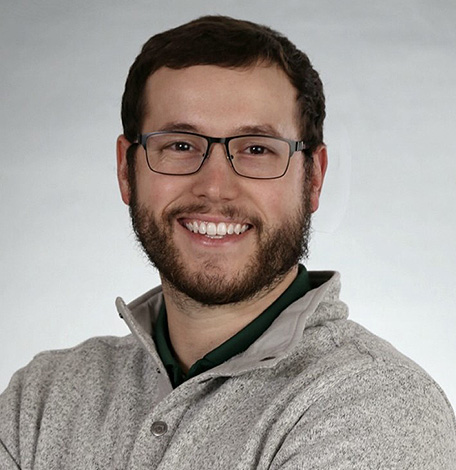 Dr. Alex Henderson, DPT/strong>
Dr. Alex Henderson's draw to physical therapy developed following multiple knee surgeries and rehabilitation for a dislocated patella as a child. This personal experience influenced his interest in the use of self-management strategies for people with persistent musculoskeletal disorders. Dr. Henderson uses customized support, targeting biomechanical, psychosocial and individual characteristics to improve function. He teaches people self-management skills including problem solving, decision-making, resource utilization, action planning, self-tailoring, self-monitoring and creates a supportive, patient-health professional partnership. He fosters these partnerships by developing lasting relationships with people. Positive interactions with patients are what genuinely fuel his happiness as a physical therapist; building rapport through an active listening communication style and a nonjudgmental approach consistently creates a fruitful and fulfilling experience for everyone he works with.
Alex Henderson is a native of Florida and a graduate of Bartram Trail High School in St. Johns County. He took several Advanced Placement (AP) and dual enrollment courses giving him the opportunity to earn college credit at Saint Johns River State College while still in high school. He was a member of National Beta Club, National Honor Society, Photography Club, Relay for Life, Debate Team and Mu Alpha Theta. Alex also played basketball at his high school and with local travel teams.
Alex then attended the University of South Florida in Tampa where he graduated Summa Cum Laude with a Bachelor of Science degree in Biological Health Sciences and a minor in Gerontology. He was a member, vice president and historian of Phi Eta Sigma National Honor Society, a 6x Dean's List of Scholars & USF Scholars Award recipient and a member of the Future Physical Therapists organization. Alex attended the Florence University of the Arts for six weeks through the USF World's annual study abroad trip in Florence, Italy. He was also a member of the USF club basketball team and worked at the campus recreation center as a club sports supervisor and facility manager.
Dr. Henderson then attended Washington University School of Medicine in St. Louis, MO, the #1 ranked PT program by U.S. News & World Report, receiving his Doctor of Physical Therapy degree. Dr. Henderson's clinical experiences included a Student Physical Therapist (SPT) rotation at UPMC Mercy Hospital in Pittsburgh, PA working in inpatient neurological rehab and with SSM Health Rehabilitation Network in St. Louis, MI, working in outpatient orthopedics. He was a SPT at The Toledo Clinic in Sylvania, Ohio, working in outpatient orthopedics, at the Barrow Neurological Institute in Phoenix, AZ working in outpatient neurological rehab and at CU Sports Medicine and Performance Center in Boulder, CO working in an outpatient orthopedics setting with a sports focus.
While in school, Alex also volunteered at Rock Steady Boxing in Crestwood, MO helping with a boxing/exercise program for people with Parkinson's disease.
Immediately after graduation, Alex gained more experience by working at a skilled nursing facility, Reliant Rehab in Boston, MA. There he treated medically complex patients including those with post-COVID19 syndrome.
Dr. Henderson is very involved with the American Physical Therapy Association (APTA) and the MPTA in Massachusetts. He is an active member of the Orthopedics, Geriatrics, Research and Federal sections.
Alex enjoys hiking, kayaking and stand-up paddle boarding. He likes exploring new breweries, NE IPAs, cooking and wines. He relaxes by playing the acoustic guitar, singing and watching college sports. Alex currently resides in Burlington, MA with his fiance and Golden Retriever, Jax!
Alex joined our HDPT team in November of 2020.