Welcome to HD Physical Therapy
We are pleased to bring our long-standing commitment of excellence to the Wakefield & Burlington communities; we invite you to be a part of our HDPT family.
At HD Physical Therapy, we unite traditional outpatient physical therapy with the most modern and innovative tools and techniques. HDPT was created based on a total wellness philosophy, individually addressing each patient's goals and objectives. We get to know you on a personal level, and care immensely about furthering every aspect of your health and well-being. Our clinic's approach to rehabilitation enables you to heal quickly, safely and with more success.
NO waiting lists for new patients
Same day appointments
Free injury screenings and tours
Coverage under ALL health insurance plans
Two notable locations along major highways
Convenient hours that fit any schedule
We proudly serve our surrounding communities of Wakefield, Reading, Lynnfield, Melrose, Saugus, Stoneham, Woburn, Peabody, Burlington, Wilmington, Winchester, Lexington, Bedford, Billerica, as well as the North Shore, Middlesex & Essex counties and the Greater Boston metropolitan area.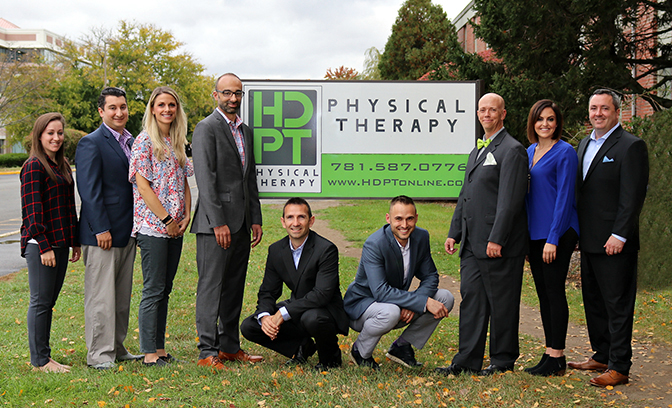 Burlington
99 South Bedford Street,
Suite 6,
Burlington, MA 01803
Phone: 781-552-3600
Fax: 781-365-0154
Wakefield
607 North Avenue,
Door 16,
Wakefield, MA 01880
Phone: 781-587-0776
Fax: 781-587-0794
For questions, please email us at: info@hdptonline.com
Our Mission & Vision
According to the World Confederation for Physical Therapy, physical therapy treatment benefits more than just the physical body. It is, "concerned with identifying and maximizing quality of life and movement potential within the spheres of promotion, prevention, treatment, intervention, habilitation and rehabilitation. This encompasses physical, psychological, emotional and social well-being."
WHAT WE DO.
We do PT and PT works. Physical therapy is an evidence-based, conservative healthcare option for the management and treatment of most neurological, orthopedic, muscular and skeletal conditions. We educate, empower, inspire and promote positive change for each person we treat.
WHO WE TREAT AND HOW WE HELP.
We offer comprehensive, results-driven rehabilitation for people of all ages. We help relieve and reduce pain. We help reduce the need for opioids. We help you avoid surgery. We improve function and mobility. We help you recover from an injury or trauma. We improve your health and prevent future injuries or events. We help you manage health conditions, disabilities and diseases. We manage age-related health issues. We help people.