JOIN OUR TEAM TODAY!
All PT is NOT the same. At HD Physical Therapy, we know our team is our greatest strength.Our mission statement maintains that, "we educate, empower, inspire and promote positive change for each patient we treat." The exact same thought process applies to our staff members.We often say, "we take PT very seriously, but not much else" around here. Our culture is based on fun, plus growth and wellness. Our team members work with a shared mission and a shared gratitude for the positive impact we are able to make on peoples' lives. Small businesses have a responsibility to the communities they operate in; we thrive when we give back to the people that support us everyday. Our employees are given the tools they need to step out of their comfort zones and set their own goals. They push each other to be better therapists with each patient that they treat. We understand communication is key, so we offer our employees the space to share and collaborate. Your needs and ideas matter; it's how we continue to learn and grow as a small business.
Enjoying the people around you, and the work you do, makes going to work each day a joy. This creates an amazing experience for our staff, and for our patients. We are humbled by our passionate, highly skilled and empathetic team…and we have a lot of laughs together. Come join us!
CURRENT OPEN POSITIONS:

PHYSICAL THERAPIST

We are a local, family-owned, small business. We are not affiliated with any big hospitals, national chains, healthcare networks or systems, groups or companies. Sometimes big companies can offer "big" perks. So why work for a small business as a PT?
Here are 10 reasons why:
CLINICIAN AUTONOMY! We are not solely focused on patient volume. We do not prioritize numbers over quality. There are NO productivity quotas or numbers for you to meet. There are no billing metrics you must follow. We never use cookie-cutter treatment protocols. Forget all of that! You treat your patients. Spend time with them. Help them however you see fit. E

xercise your clinical judgment

. Performance at HDPT is judged on you consistently making patients happy and healthy. That's it!
Enjoy greater flexibility. Small companies are less tied to policy and precedent than big conglomerates, so we can be more flexible with all aspects of work, and in general.
Everyone is closer to the mission. It's easier to get a real sense of what a small business does and how each employee impacts the work. There's less corporate jargon blurring what people actually do.
You'll work more closely with senior leaders and managers. Instead of seeing your boss's boss once a year, you'll work right along side them. Our co-founders still treat everyday. A smaller staff size affords managers and employees the chance to bond more easily and learn from each other.
You'll experience a lot of camaraderie. Teamwork is a big part of small businesses; it's essential. If you like getting to know the people you work with, you're in luck—you'll spend time working directly with them. Small healthcare organizations are in a unique position to create an environment where employees become a true team.
You can move quickly on your ideas. If you have a proposal for equipment, tools, techniques, courses or classes, you can try it out quickly without a lot of red tape. You can experiment. We cultivate clinical reasoning. You'll have plenty of chances to test new ideas—and you'll be encouraged to do so.
Your business owners will make decisions with you in mind, and not only the bottom line. Small, privately owned businesses have much more freedom to take creative risks, let strategies play out and listen closely to its staff.
You'll feel a sense of ownership. According to the Aflac survey, almost 9 in 10 small business employees feel like they have the opportunity to voice their ideas and opinions and have them heard and listened to.
We support your professional goals. Whether you are a new graduate or an experienced professional, we want to help you develop your clinical skills, leadership, management expertise, and teaching experience. Making you better helps makes us better.
Did we mention the laughs?
THE JOB:
Providing all therapeutic services, evaluating and treating a varied patient caseload
Developing functional, outcome-based and creative treatment exercises & activities
Using experienced clinical and manual skills when appropriate
The timely completion of all required documentation
Actively participating in rehabilitation team efforts to meet patient needs, including, counseling and teaching patients and their families, discussing changes in treatment programs with MDs, coordinating health care plans with other involved healthcare professionals and assisting in discharge planning as appropriate
Striving to keep current on advances in the field via professional publications, conferences, classes and consultation with other professionals
Participating in local marketing activities, events and promotions.
WHAT WE OFFER:
Medical Insurance
Dental Insurance
401(k)
Paid Family and Medical Leave (PFML) Benefits
Employee incentive bonuses
Competitive holiday, vacation & personal time off
Continuing education reimbursement
Company team building events
Community outreach opportunities with area health & wellness institutions, schools and clubs
REQUIREMENTS:
Must be a graduate of an accredited physical therapy program (Bachelors, Masters and Doctoral degrees considered; new graduates welcome!)
Must possess an unrestricted, active license to practice physical therapy in the Commonwealth of Massachusetts, or be scheduled to sit for it
Must be a team player, flexible and willing to work together with a small, tight-knit clinical team
Must possess effective communication skills (written and verbal) to interact with staff, patients' rehabilitation and medical teams, patients and their families
Must have efficient (online) documentation skills and an attention to detail
Must love helping people!
SCAN TO APPLY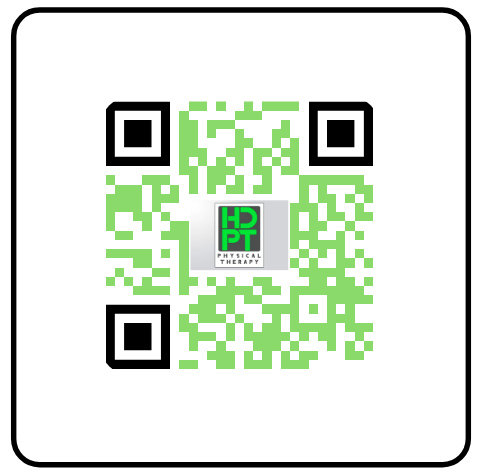 Diversity, Equality & Inclusion

Whether you are a patient, employee or part of our local community, we're committed to helping you do your best. Our promise is to champion diversity, build an inclusive culture and environment, and do our part to create a more equitable world. You can't do your best work if you can't be your best self. That's why our goal is to create a space where employees of all backgrounds and abilities feel they belong. We can't promise we'll always get it right, but we'll always put our people first.