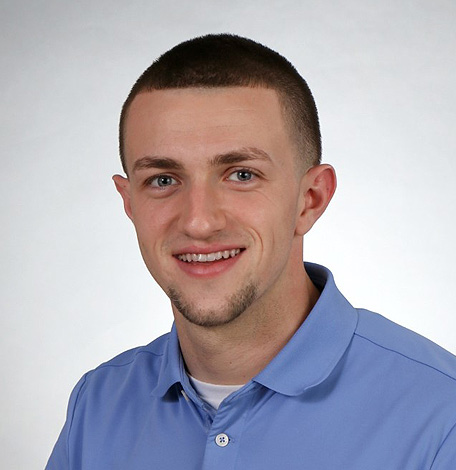 Dr. Devin T. Thompson, DPT
Dr. Devin Thompson's interest in physical therapy developed after completing treatment following an injury he sustained playing college basketball. While rehabbing to return to his own sport, Devin intuitively recognized the important connection between physical health and mental performance. He understood that you could improve your athletic ability by maximizing your body's mental functioning. By helping athletes perform at their physical best, Dr. Thompson also helps his patients focus on motivation, confidence, intensity, focus and mind state, which are all needed to achieve success. This thought process applies to all of Devin's patients, not just athletes. Physical and mental health are inseparably interconnected within everyone's overall health and well being and Dr. Thompson consistently helps people remain active, engaged and independent, so they can get back to feeling their best.
Devin Thompson is a native of Winthrop, MA and a graduate of St. Mary's School in Lynn, MA. He was an All-Conference and All-State sharpshooting guard on the St. Mary's High School boy's basketball team winning the state championship by scoring 25 points inside the TD Garden in Boston, MA. Devin was also a starting centerfielder on the school's baseball team, was the student class president, an honor roll student and a member of the National Honor Society.
Devin committed to attend the University of New England in Biddeford, Maine, where he was an applied exercise science major with a concentration in pre-physical therapy. Devin was captain of the men's basketball team, NSCA All-American-Student Athlete of the Year, a 1,000 Career Point Scorer, a Commonwealth Coast All-Conference & All-Academic Selection and the Maine College Basketball Writers Association All-State Selection. Devin was also a Special Olympics counselor, a basketball clinic counselor and worked as a NSCA certified personal trainer for the school hockey team, faculty and staff. He completed student internships at the Motion Analysis Lab at UNE in Portland, ME and at Saco Bay Physical Therapy in Saco, ME.
Throughout the summers, Devin worked as a skills trainer and basketball coach for the Mass Evolution AAU program in Woburn, MA, as a personal trainer at the YMCA in East Boston, MA and as a youth basketball referee and youth baseball umpire in Revere, MA.
Devin then attended Northeastern University obtaining a degree as a Doctor of Physical Therapy (DPT) with a concentration in Sports Strength & Conditioning.
Dr. Thompson's clinical experience included a sports concentration internship working with MGH sports physical therapy residents treating Division 1 athletes. He was also a Boston Marathon finish line PT student volunteer working with an interdisciplinary team to treat runners at the Boston Marathon.
Dr. Thompson completed clinical rotations and co-ops with Lahey Outpatient Center in Danvers, MA, Furnace Brook Physical Therapy in Quincy, MA, and at the St. Vincent Center with the Indiana Pacers in Indianapolis, IN. While with the Pacers, Devin was involved in player assessments, treatments and taping, performed soft tissue/joint mobilizations of players, and assisted with therapeutic exercise completion and development of strength/rehab training programs for players.
Devin gained more experience by interning at and working at a skilled nursing facility, Alliance Health at Marina Bay, Quincy, MA. There he treated short-term and long-term residents rehabbing from joint replacements, strokes, cognitive impairments, dementia and wound issues.
Dr. Thompson is still a youth basketball referee, a youth baseball umpire and a NUPT Class of 2020 Student Representative. He also enjoys playing competitive basketball in local men's leagues, watching Patriots football, traveling and learning about (and sampling) whiskeys! Devin currently resides in Winthrop, MA.
Devin joined our HDPT team in October of 2020.