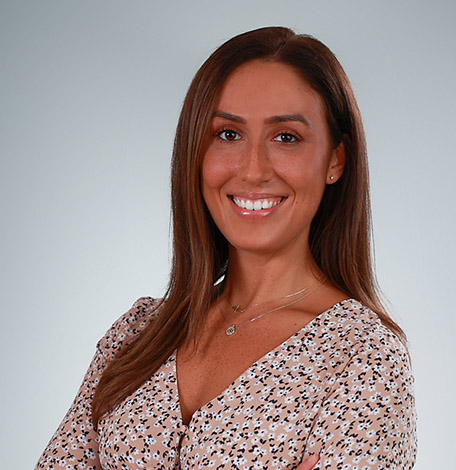 Antonella Martone, DPT, ATC
Antonella Martone, DPT, ATC
Dr. Antonella Martone imparts her genuine and spirited personality on each and every patient. She is known for her attentive, analytical and ardent rehabilitative treatment style. Antonella's patients are instantly put at ease by her reassuring and compassionate nature, and she continually puts forward valued, comprehensive and rewarding therapeutic outcomes.
Antonella Martone grew up in Saugus, MA and graduated from Austin Preparatory School in Reading, MA. As an honor roll student, she was a member of the Spanish Club and played soccer until she hurt her leg, requiring physical therapy.
Antonella attended Merrimack College in North Andover, MA. She went to the School of Health Sciences majoring in Athletic Training. She gained valuable clinical experience through training the Merrimack football, baseball, field hockey and men's soccer DII teams, as well as through clinical rotations with Andover High School boy's basketball team and Melrose High School athletic teams. While at Merrimack, Antonella also was a lab instructor for Acute and Emergency Care teaching skills such as splinting, assessing vital signs and spine boarding.
After graduating with her Bachelor of Science degree in athletic training and passing her board exams to become licensed, Antonella started working as a research assistant studying the breakdown of data and correlations for a gait analysis research initiative ("The Relationship between Gait Biomechanics, Selected Lower Extremity Strength, Static Lower Extremity Measures and Injury History in Division II Collegiate Middle to Long Distance Runners" conducted by Andrew Cannon MHS, PT, SCS, CSCS PT and Kevin Finn EdD, ATC, CSCS.) She also began working for an outpatient rehabilitation company in North Andover. There she was an Athletic Trainer and Rehab Aide assisting staff physical therapists and providing per diem coverage of area high school athletic events, including games, practices and training room treatments.
Wishing to further her career, Antonella began the Doctor of Physical Therapy program at Plymouth State University in Plymouth, NH. Her clinical rotations included working as a student PT at LRGH Hillside Medical Park treating and evaluating patients with varying diagnoses, at the pro bono clinic at Plymouth State treating in the local community for the DPT program's "Panther PT" clinic, and at area inpatient and outpatient physical therapy practices treating and evaluating different patient populations. She also performed volunteer functional movement screenings (FMS) for middle school physical education students as part of various research studies, as well as worked with the Granite State Adaptive Sports program assisting children with Down's syndrome and autism rock climb.
Unfortunately due to the COVID-19 pandemic, Antonella's DPT program transferred to remote learning for the final year. However, fortunately during her time at home, she began working at HDPT as a rehab aide. Upon her graduation and gaining her physical therapy license, Dr. Martone stayed with us and began treating patients at HD Physical Therapy in August of 2021.
Dr. Martone has a license to practice physical therapy and athletic training in the Commonwealth of Massachusetts, is certified in CPR, First Aid and AED and is fluent in Italian and intermediate Spanish. Antonella currently resides in Boston, MA.
Outside of work, Antonella enjoys working out, especially running, watching and playing soccer, traveling, the beach, summer and tequila!